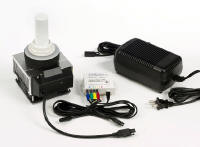 CoolWorks' IceProbe Small Aquarium Chiller (IPAC-50W) is the perfect cooling solution for small aquariums and insulated fish egg hatching, bait, and specimen tanks.

The Aquarium Chiller is a complete water cooling system. It includes the IceProbe, the nut and silicone washer for bulkhead installation, and a power converter with six foot cords on each side. The Aquarium Chiller can be easily installed in any orientation through a 1.25 inch hole into siphon overflows, pre-filters, sumps, or aquarium walls, or suspended with a bracket or lid over the top of the aquarium.
The chiller cools continuously when powered. In most aquarium implementations, the CoolWorks Proportional Temperature Controller is added to regulate the IceProbe's cooling power. Our TEC-65 controller is designed for tropical water aquarium environments, with an adjustable temperature range of 65ºF to 85ºF.


IceProbe Chiller (IPAC- 50W) $104.95
Proportional Temperature Controller (TEC-65) $59.99